Posted by admin | Filed under Uncategorized
Remember back in the day, like late 90s early 2000s when Moffic was so popular & all over the place. Well, writers/readers used to have Yahoo groups and mailing lists talking about their fave fics and updates to their own stories. So, I decided that we needed one too!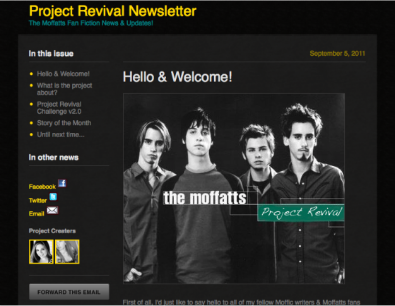 It will contains our fave stories, websites, news about our project and challenges, etc. The first issue came out last night. Comment/message us and I'll send it to ya right away if you missed it! If you wanna subscribe to our bi-monthly Moffic newsie click
here
!
Posted by admin | Filed under Uncategorized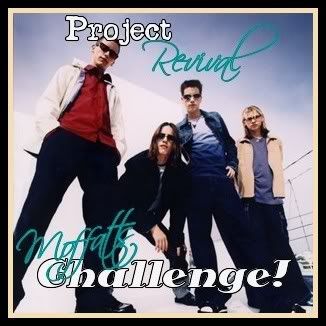 Do you love the Moffatts? Do you love fanfic? Well, this is the challenge for you! We're running our very own
Project Revival Challenge
over at the LJ community
here
.
We will be hosting games & activities where the members, you guys, can win PRIZES!!! For more info check it out & take the POLL we have going. We need your input to put the challenge together!
Posted by admin | Filed under Uncategorized
Wow! Can't believe the progress we're making! Lots of new fic has been posted in the last couple of weeks! Here's the list…
- City of Angels by Bethany (Scott/Tay one-shot)
- Break Even by Jess (Slash/twincest)
- Walking Behind by Jessemay (Scott/Hetfic)
So much awesomeness, so little time to read it! But they're all on my to-read list! Keep up the great work ladies!
p.s. Scroll down to the bottom of the links on the right, & you'll notice that I signed us up for The Moffatts Fanlisting! Hopefully, we are approved soon hehe!
~ Renee P.
Posted by reneec | Filed under Uncategorized
Hello everyone!
I just wanted to let you guys know about a few new updates to the site. If you look at the sidebar on the right, I have added the links to our Moffic LJ Community as well as a brand new Moffatt Fanfic Forum. We would love for you guys to check both and join right away!
-Moffic LJ Community
-Moffatts Fanfic Forum
Also, I added my new story, Shine So Blue to the list of WIP's. I posted the first chapter the other day, so check it out and let me know what you think!
-Renee C.
Posted by admin | Filed under Uncategorized
Yup, you read that correctly! Looks to be our beloved Moffatts fandom is a dying breed. People in general have forgotten about the Moffatts, and it's even worse for Moffic as Renee C. and I are the only two we know of that even write it. Please, feel free to prove me wrong on that one!
Anyway, we get a wave of Moffatts nostalgia every so often and this time it hit us hard. I have already put together an archive for Moffic, but now, we need to make our mark in Moffatts fan fiction for this decade. And here we are, putting together a new page and writing two, brand new stories!
So, spread the word, tell your friends, yell off of the rooftops that the Moffatts fandom isn't going anywhere. We may only be 2, but we're going to keep Moffatts fan fiction alive! Join us! Leave us some love!
~ Renee P.